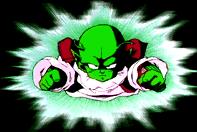 Name: Dende
Race: Namekian
Abilities: Fly, Heal
Dende is from planet Namek. Gohan and Krillin first met him while they were looking for the dragonballs on Namek. Dende has a large part in the Dragonball series and possesses healing power that was used during the fight of Frieza. He later replaces Kami as the guardian of the dragonballs on Earth.
Name: Nail
Race: Namekian
Abilities: Basically the same as Piccolo
Nail is from the planet Namek and is the guardian of the Namek's eldest namek named Guru. He was later forced to fuse with piccolo after Frieza weaken him in a battle. Both Piccolo and Nail fought against Frieza with incredible power.